Floridas East Coast between Palm Beach and Cape Canaveral
The east coast, up north to the Kennedy Space Center was our plan for the second week traveling through the southern part of Florida. Because we already had spent a lot of money for hotels/motels in the more touristic areas Miami, Key West and Florida City, the 'gate' to the Everglades NP, I decided to save some money by taking the route through the (kind of boring) inland roads to our destination Cape Canaveral and the beaches on the east coast.
I've had worse roads during my many drives through the country over the years, but my brother – who's never been out of Europe before –  was not used to miles and miles of straight boring roads. Though I had warned him, after two hours of driving through flat land, nothing to see, no curves at all, he started to complain 😉 We stayed overnight in Clewiston, a small town at Lake Okeechobee, and drove around the lake the next day, without actually ever seeing the water, cause its hidden behind the 110mi long Herbert Hoover Dike. I've read that you actually can hike or bike along that dike surrounding the lake.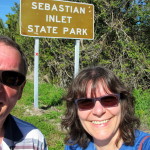 We hit the coast at Fort Pierce and took highway A1A to Cocoa Beach, crossing all the islands and peninsulas off the coast. Though there are many private properties along that road, you always find access to the endless beaches and there are also some beautiful State parks and National  Wildlife Refuges.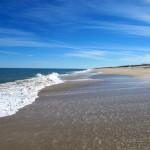 For a crowd-avoiding traveler like me, this part of the east coast was perfect. Compared to the coastline between Miami and Palm Beach, it was quiet, lots of wildlife, beaches you partly had for yourself, many parks to hike, watch birds and other animals, and reasonable hotel prices.
The Kennedy Space Center
Visiting the Kennedy Space Center was on my list in the first place. I thought we would have a short look at the Rockets, the Apollo programm, the space shuttles, takes us maybe 3-4hrs and we are done. Well, in the end we spent more than seven hours there and didn't have time to go to the gift shop – I'm sorry, no postcards, no shuttle, no shirt or cup 😉
It was fascinating to see all the space stuff, particularly the Saturn V/Apollo rocket, the launch pad we drove by on the bus tour and the Space Shuttle Atlantis. I also dived into the IMAX movie about the Hubble telescope.
And yes, it is very 'US-American', lots of hero-talking and 'pat on the back', but there is also acknowledgement for connecting nations all over the world  to join on a common space programm and finally working together in space on the ISS.